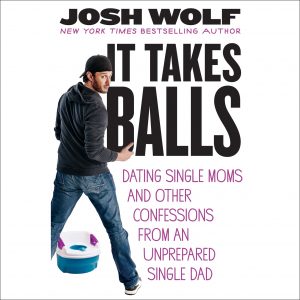 My Rating:





Author: Josh Wolf
Narrator: Josh Wolf
Publisher: Hachette Audio
Length: 6 hrs and 12 mins
My Review: Josh Wolf fans: Unite with me as we say Josh's unofficial catch phrase… "I meannnnnnn…" I love me some Chelsea Lately, so much that I've listened to all of her books and I watch every episode of her show. Ninety percent of the time, I could care less who her special guest is and I focus soley on the round table discussions between Handler and her friends. My favorite round table comics have to be Josh Wolf, Ross Mathews, Bobby Lee and Loni Love. They may only be talking about current events, but more often than not, they get off topic and spew hilarity.
Like most Hollywood funny men, Wolf has had his struggles. While being a single dad and raising three kid might have been a struggle, you can tell by his humor that he's grown and learned to make ends meet on even the tightest budget. From eating dinner in the grocery store to running his own peanut butter and jelly business with his kids, he provided for his family. Oh and let's not forget, seducing nannies in the local park.
Yup, Wolf is hilarious and the tales in this book will have you laughing out loud. On my lunch hour from work, I like to eat in the park to get out of the office and stretch my legs. If you only knew how many strange looks I got from kids and parents when I busted up laughing and almost choked on my ham sandwich. Thank goodness they never called the psych ward to haul me off.
Overall, this was an easy, fun listen. The stories of Wolf's life are hilarious and more than once I thought to myself, no wonder this guy is a comedian… his life is a hot mess!
Narrator Review: Wolf couldn't have a better narrator than himself. He did a great job and when comedians read their own books, they're always funnier. I'm shocked that he didn't burst into laughter while telling his stories, this truly was a hilarious book.
Disclosure: I streamed this audiobook from Audiobooks.com.