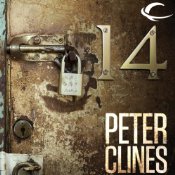 According to his Amazon.com biography, Peter Clines wrote his first novel, Lizard Men From The Center of The Earth, at the age of eight. Clines' overactive imagination stems from comic books and Star Wars. He has proven himself to be a writer of wit, style, and originality. The following four titles are well worth checking out for their sheer inventiveness alone. Clines offers a unique take on end of the world sagas which is beyond refreshing.  All the titles listed below are available in audiobook format from Audible.com and are truly brought to life by some great narrators!
Clines' new release, 14, features a down on his luck bachelor whose apartment complex may contain more than meets the eye; with answers that may mean the end of everything. The audiobook is narrated by Ray Porter whose direct, journalistic approach to narration harkens back to the days of radio news flash bulletins. Audible customer ratings are strong for this audiobook, with an average rating of four out of five stars.
Two more audiobooks from Clines include Ex-Heroes: Book 1 and Ex-Patriots: Book 2.  In the first book of the series, Ex-Heroes establishes characters and situations following a global outbreak of zombies which has left the world in ruins.  The second book, Ex-Patriots, follows a band of heroes who face challenges and attrition two years after the end of the world.  Help eventually comes from a US Army battalion of super-soldiers; only this battalion was built prior to the outbreak leaving many questions to be answered.  Both audiobooks are narrated by the same two-person ensemble of Jay Snyder and Khistine Hvam which worked well to distinguish the female and male characters throughout the books.
Another audiobook from Clines, The Junkie Quatrain continues Clines' unique spin on end of the world sagas.  The Junkie Quatrain consists of four tales of survival, in addition to four tales regarding the post-apocalypse. Christian Rummel lends his voice, along with Therese Plummer, and their work is top-notch.
 • • •
Audible.com is the Internet's leading provider of digital audiobooks featuring more than 100,000 titles available for download, including books, magazines, radio shows, podcasts, stand-up comedy, and speeches. Listeners can download audiobooks to their iPod, iPhone, Android, Windows Phone, BlackBerry, Kindle, and 500 other devices. With Audible's new apps for iPhone™, Android™, Windows Phone, and Kindle Fire listeners can browse and download audiobooks wirelessly directly on their mobile device.
Now you can join Audible.com for Just $7.49 and receive a credit good toward any of the audiobooks mentioned in this article or another audiobook of your choice. This introductory rate of $7.49/month is available for the first three months of your membership and then you can choose to continue at $14.95 per month.  In addition, your subscription includes the following member benefits:
Get 1 audiobook each month
Save 30% on all audio every day
Receive advance notice of exclusive sales and promotions
Enjoy a complimentary weekday audio subscription to the New York Times or The Wall Street Journal
Sign Up Now