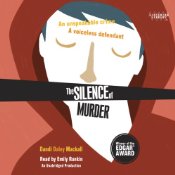 My Rating:





Author: Dandi Daley Mackall
Narrator: Emily Rankin
Length: 9 hrs., 8 mins.
Publisher: Listening Library
My Review: What a great, suspenseful story for young adults! The Silence of Murder has everything a YA novel should. Drama, action, suspense, love, hate, confusion and desperation. I thoroughly enjoyed this audiobook and it moved along so nicely through the story.
Hope Long has a lot on her plate; An alcoholic mother, a brother who doesn't speak and now a murder. When her brother Jeremy is taken into custody as the prime suspect, Hope is convinced he isn't the killer. With the help of her best friend T.J. and local hottie Chase, the threesome set out to uncover clues to the true killer of their friend and baseball coach.
The hardest part of the case? Jeremy won't talk. Hope knows he can speak but he hasn't for so many years. He writes notes to expressive himself and communicate with Hope but that has stopped too. Jeremy's defense attorney pleads an insanity case that hurts Hope beyond belief. Her brother isn't insane, only different.
Things get interesting fast and the action moves at a great pace for YA readers. Adults, this is a great listen for you too! Full of suspense and "who done it" moments to make any car ride interesting. I listened to this while I was working (audiobooks really help me zone in on my work) and the story flew by. Great characters, great story, superb book.
Narrator Review: Emily Rankin hit the nail on the head with the narration of The Silence of Murder. She moved effortlessly between characters and kept each voice distinctive and true to their personalities. Emily has a great young voice for YA audiobooks and I hope to see her around more.
Download Now
Disclosure: I received a copy of this audiobook from the publisher. All opinions expressed are mine and mine alone. I only recommend books I think others would truly enjoy.