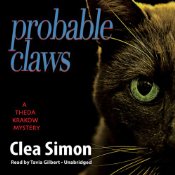 Theda Krakow Mystery, Book 4
My Rating:





Author: Clea Simon
Narrator: Tavia Gilbert
Length: 8 hrs., 52 mins.
Publisher: Blackstone Audio, Inc.
My Review: Probable Claws was a great listen! The story created by Clea Simon is not only filled with twists and turns but it's drama-packed from start to finish.
Since this was my first listen of any of the Theda Krakow Mystery series, I was leery to jump into book four. Away I went, quickly able to catch onto the back history. Theda is a freelance journalist with her own music column, Club Land. Her longtime man, Bill is a former police officer turned club owner. She has a cat named Musetta and a colorful group of friends including Violet, a musician and college student that runs a no-kill cat sanctuary.
When Theda takes her tuxedo cat Musetta in for a routine teeth cleaning appointment, her friend and vet Rachel seems like her normal self. The drama and action start the following morning when Theda returns to the office to bring Musetta home. Not only is the fat feline still in her cat carrier, she's got blood on her fur. Instantly, Theda is livid. Why on earth is Musetta still in her carrier? Why is there blood on her? Where's Rachel?
Probable Claws was a great listen. I enjoyed the mystery and suspense that was built around the murder. Trying to figure out who did the crime kept my mind spinning until the end. Cat lovers will especially love this audiobook with all the kitty references and care given in presenting Theda and her crew as animal lovers.
Narrator Review: As I've said before, I'm a fan of Tavia Gilbert. She's a pro at letting each character come to life in her narration. Each individual (and feline!) has their own distinct voice that makes loving this audiobook easier. Great job Tavia!
Disclosure: I received a copy of this audiobook from the publisher in exchange for my honest opinion. That said, all opinions above are mine and mine alone.