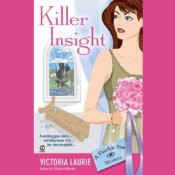 My Rating:





Author: Victoria Laurie
Narrator: Elizabeth Michaels
Length: 9 hrs., 40 mins.
Publisher: Audible, Inc.
My Review: 
Dear Victoria Laurie,

I love this series. Don't ever stop. Seriously.

Sincerely,

Maggie
What? … Ugh. John says I have to write more about this audiobook and that declaring my love for the series isn't enough. Butt monkey. I guess that's what bothers… Oops, I mean brothers are for.
Abby Cooper has a habit of getting herself in too deep and Killer Insight is no exception! In the first few chapters major things are happening. Dutch is no more, Abby is on her way to Denver and people are missing.
Abby arrives in Denver and it seems like the world stops spinning when her friend's bridesmaids start disappearing. The worst part… their pictures are flat. (If you've listened to any of this series, you know what that means. If you haven't, get busy!)
There's lots of suspense and action in this installment of the Psychic Eye Series and I can't wait for more. Abby is such a lovable character and I know she'll be up to something interesting next. This is a great series! If you love Stephanie Plum's adventures and drama, this should be next on your list.
Narrator Review: If anyone but Elizabeth Michaels was narrating Killer Insight I'd be disappointed. I love her work with this series and her voice fits Abby's personality perfectly.
Disclosure: I downloaded this audiobook from Audible.com. All opinions expressed are mine and mine alone.