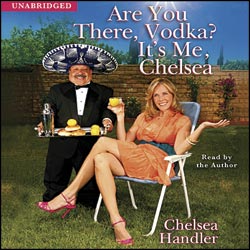 My Rating:





Author: Chelsea Handler
Narrator: Chelsea Handler
Length: 6 hrs., 13 mins.
Publisher: Simon & Schuster Audio
My Review: Until this audiobook, I'd only heard Chelsea Handler's name in passing. I've never listened or seen any of her comedy routines or any of her TV/movie appearances. Lame, huh? After listening to this entire audiobook in less than a day, I'm hooked on Chelsea! She's hilarious, obscene and smart.
Warning: Don't listen to this audiobook if you fall into any of the following criteria:
• You're offended by the word "asshole". She uses it ALOT. Mostly referring to herself, friends, family, co-workers, animals, passersby, etc.
• You don't enjoy a good drink here and there. Chelsea drinks. Alot.
• You don't enjoy uncensored comedy. Chelsea's mind and mouth don't have a filter.
So now that I've given you the appropriate warnings, you can listen and love. This audiobook had me laughing during the entire time. Chelsea has hilarious nicknames for her boyfriends and the best might be for her Dad, "Bitch Tits".
The last chapter of Are you there, Vodka? It's Me Chelsea was by far the best. She travels to Costa Rica with "Bitch Tits" and ends up begging her siblings to come to her rescue. He's a crazy old Jewish man with, you guessed it, no mouth filter.
If you want a few hours with lots of laughs, download this audiobook! I can't put into words how funny Chelsea is in her book. Since finishing it this afternoon, I've set my DVR to record every upcoming episode of her TV show, Chelsea Lately. I hope it's just as good!!
Narrator Review: This audiobook HAD to be narrated by Chelsea. I'm pretty sure any other narrator screaming "asshole", "Bitch Tits" and other obscenities wouldn't be near as entertaining. She has a great voice and here's hoping she writes and narrates more books!
Download Are you there, Vodka? It's Me Chelsea now!
Disclosure: I streamed this audiobook from Audiobooks.com.