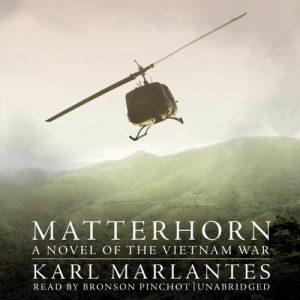 My Rating:





Author: Karl Marlantes
Narrator: Bronson Pinchot
Publisher: Blackstone Audio
Length: 21 hrs and 10 min
My Review:
Matterhorn: A Novel of The Vietnam War will take you places you may not be prepared to go. From the very beginning  you are dropped into the dense jungle of Vietnam to follow Lieutenant Waino Mellas of Bravo Company. Immediately you are combating immersion foot, jungle rot, dehydration, fatigue, tigers and leeches that rain down from above and quietly drink your blood.
Matterhorn doesn't just describe the Vietnam War it immerses you in it. It puts you on edge. You'll feel your heart rate accelerate as you walk point with Vancouver trying to avoid booby traps and detect ambushes in time to give yourself and your brothers time to take cover. Your stomach will cramp as the entire company conserves it's meager rations in hopes of stretching them out long enough for the next resupply drop. You will understand their frustration as they realize that the position that they have fought and died for will simply be abandoned. You will feel their fear, you will know their pride and you will experience the grind it out guts and perseverance that holds Bravo Company together.
Politics, racism and ambition may seem to get in the way of everything while Bravo Company is at base camp, but all these problems melt away when the point man drops to a crouch and raises his fist.
Matterhorn masterfully illustrates the brutality, horror and futility of war.
"Matterhorn is one of the most powerful and moving novels about combat, the Vietnam War, and war in general that I have ever read." (Dan Rather)
Narration: Matterhorn is a great novel right out of the box. That being said, the narration provided by Bronson Pinchot makes it one of the most memorable audiobook experiences I have ever had. Excellent job! His depiction of Lieutenant Colonel Simpson was particularly entertaining. I loved hearing his voice because Bronson nailed him but man I hated that guy so much!
Side Note: I'm guessing that Bronson has never used the word "F&#k" as many times in any other performance
Overall: Few books have impacted me as emotionally as Matterhorn. After listening to it I felt like I had gone AWOL and left Bravo company "in the shit". I felt guilty that while these kids were fighting for our country and starving out in the bush I could just hit pause and go grab a cold diet coke and a bag of chips.
It's really hard to distance yourself from the characters you meet in Matterhorn. Even though this is a work of fiction you get the sense that this fictional depiction is as close to real life as possible. It's easy to believe that situations exactly like these played out every day during the war. So when a member of Bravo Company is killed it is easy to imagine that you know that young man.  It's hard not to mourn for him and the other 58,267 American men who died in service during the Vietnam War.
Matterhorn is a unique experience. Listen to it if at all possible (I am not joking about the audio production.. it is great). If you can't or don't want to listen to it then read it. You won't regret it.
Highly recommended
Disclosure: I received a copy of this audiobook for review from the publisher
Interview with the author, Karl Marlantes: