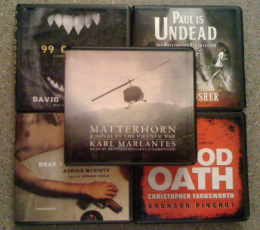 I love audiobooks! One of the problems that I always run into is trying to decide what I should listen to next. I usually have a "to be listened to" pile (an actual physical pile or a digital one in my audible.com account) that is several books deep. So unless I am in the middle of a series of books that I am totally engrossed in I will typically have a pretty difficult time picking my next listen. However this time Jason (@braincandybr) made the task a lot easier on me.
In case you haven't heard, Jason has started a Twitter Audiobook Book club. Since I'm an audiobook addict this is right up my alley.
We are an internet (Twitter) book club that meets every THIRD Wednesday of the month to discuss a preselected audiobook title. Follow and join in the conversation with fellow audiophiles, using the twitter hashtag #abco. That's every 3rd Wednesday from 7:00-8:00pm (est). Check the blog for contact information, title selections, updates, and general audiobook posts. – from http://audiobookclubonline.blogspot.com/
The first meeting is scheduled for September 15th and the first book to be selected for the audiobook book club is "Matterhorn" by Karl Marlantes. The below description is taken from Blackstoneaudio.com
Subtitle: A Novel of the Vietnam War
Winner of the AudioFile Earphones Award
A New York Times Bestseller
A Barnes & Noble Summer Discover Pick
Amazon Best Books of the Month, March 2010
In the monsoon season of 1968-69 at a fire support base called Matterhorn, located in the remote mountains of Vietnam, a young and ambitious Marine lieutenant wants to command a company to further his civilian political ambitions. Two people stand in his way. The first is a well-loved, combat-weary lieutenant of his own age who desperately wants out of the bush but who does not want to leave his Marines with an inexperienced and overly ambitious officer. The second is an angry leader of the company's radical blacks, who has all the political skill, savvy, and ambition of the protagonist. As the young lieutenant experiences the costs of combat, he sees the terrible results of his actions and begins to question the value of ambition and skill over compassion and heart.
—
Matterhorn is narrated by Bronson Pinchot. This will be the first book that I have listened to that is narrated by Mr. Pinchot. It will be a struggle for me at times to not think of him as Balki (I was a huge fan of Perfect Strangers.. no joke). So far I have only listened to the brief preview on audible.com and there was no sign of the lovable shepherd from Mypos.
This book has received excellent reviews. Goodreads Reviews | Amazon.com Reviews I can't wait to get started! If you would like to get involved with the book club just follow the book club on Twitter  at @audiobookbc and check the blog at http://audiobookclubonline.blogspot.com/
Get your copy via Audible.com – Matterhorn
John